Inverter generators are the best portable power sources. This is due to their lightweight nature, stable power, fuel efficiency, and quiet performance. They carry distinctive characteristics that make them suitable for many situations. In this guide, we are showcasing the best inverter generator currently available. We are offering unbiased inverter generator reviews of various models to inform you of what to expect. There are many advantages and limitations, and we are covering them all.
Ultimately, with our comparison charts and buying guide, you will learn everything you need to know about inverter generators. Including the most convenient features, how they work, and how to choose the best one. Read our top recommendations.
Honda EU2200i

Recoil Start

Starting 2200W - Running 1800W

Fuel Type: Gas Capacity: 0.95 gal.

Run Time @ 25% Load: 8.1 hrs.

Noise Level @ 25% Load: 48 dBA.

Weight: 47 lb.

Warranty: 3-Year

Price: $$$$
Champion Power Equipment 75537i

Wireless Remote + Electric + Recoil Start

Starting 3100W - Running 2800W

Fuel Type: Gas Capacity: 1.6 gal.

Run Time @ 25% Load: 8 hrs.

Noise Level @ 25% Load: 58 dBA.

Weight: 96.6 lb.

Warranty: 3-Year

Price: $$
Westinghouse iGen2600

Recoil Start

Starting 2600W - Running 2200W

Fuel Type: Gas Capacity: 1.0 gal.

Run Time @ 25% Load: 10 hrs.

Noise Level @ 25% Load: 52 dBA.

Weight: 48 lb.

Warranty: 3-Year

Price: $$$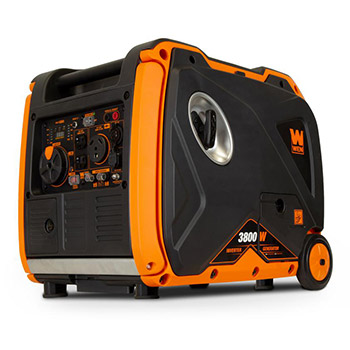 WEN 56380i

Electric + Recoil Start

Starting 3800W - Running 3400W

Fuel Type: Gas Capacity: 2.2 gal.

Run Time @ 25% Load: 12.5 hrs.

Noise Level @ 25% Load: 57 dBA.

Weight: 99.2 lb.

Warranty: 2-Year

Price: $$
Yamaha EF2200iS

Recoil Start

Starting 2200W - Running 1800W

Fuel Type: Gas Capacity: 1.24 gal.

Run Time @ 25% Load: 10.5 hrs.

Noise Level @ 25% Load: 57 dBA.

Weight: 55 lb.

Warranty: 3-Year

Price: $$$$
Briggs & Stratton P4500

Electric + Recoil Start

Starting 4500W - Running 3700W

Fuel Type: Gas Capacity: 3.5 gal.

Run Time @ 25% Load: 16 hrs.

Noise Level @ 25% Load: 60 dBA.

Weight: 115 lb.

Warranty: 3-Year

Price: $$$
Best Inverter Generator Reviews
1. Honda EU2200I Inverter Generator
With Honda's reputation for excellence, this is undoubtedly the best inverter generator, it's the top tier of its class. A compact powerhouse with advanced inverter technology. It presents a perfect choice for power-sensitive equipment such as computers, digital electronics, and medical devices.
Honda EU2200i offers a starting output of 2200 watts and a continuous output of 1800 watts. It has two 120V standard receptacles, one 12V DC for battery charging, and an enhanced recoil pull start for an effortless start.
One of EU2200i's main traits is its powerful engine. It features a 121cc Honda GXR120 engine, while similarly specked models usually hold 79cc or 98cc engines. It was also initially developed for heavy-duty construction equipment, lending it more power and reliability. Plus, it has a parallel capability option that allows you to expand its power by connecting it to another unit and get a total of 4400W.
Check also – Honda EU2200i review
Pros:
Better durability, more powerful engine and better overall performance compared to its predecessor. Also, managed by Honda's Eco-Throttle system, which guarantees efficient fuel consumption.
Very lightweight, only 46.5 pounds, it's the very definition of portable generators.
A gas capacity of less than one-gallon allows it to run over 3 hours at full, and over 8 hours at quarter load.
Depending on the electrical load, it produces between 48 to 57 decibels.
Fuel-off switch, allows the generator to run dry before preparing it for long term storage. It helps prevent stale fuel related problems.
A three-year warranty and support from one of the top brands out there.
Cons:
The lack of a fuel gauge makes it hard to monitor the fuel level.
Given the already high cost of this machine, it should have an LED display. Similarly specked models are cheaper.
2. Champion Power Equipment 75537i Inverter Generator
This top-rated inverter generator incorporates the powerful 171cc Champion OHV four-stroke engine. It's capable of putting out 3100 starting watts and 2800 running watts. It also has a smart eco-mode that automatically adjusts the engine speeds to save fuel.
Champion Power Equipment 75537i fits the bill for both ends of the power spectrum. It's designed to produce safe power for sensitive electronic equipment. Moreover, it is an RV ready generator with enough wattage to run a 13500 BTU air conditioner.
The dry weight is 96 pounds, which could hardly be called "portable". However, it has a suitcase style handle and rugged tires that are a big boost in user-friendliness as well as ease of use. There are also two handles on the side that allow you to carry it for storage.
Additionally, it's CARB compliant with low emissions and safe for use in all 50 states. It comes supported by a 3-year warranty and lifetime technical support.
Pros:
It has a remote start that works from up to 80 feet away. It also has a manual pull start and a push-to-start electric button.
Equipped with cold start technology for easy starting in cold weather.
Runs up to 8 hours at quarter load on a fuel tank size of just 1.6 gallons of gasoline.
Low noise, it operates at 58 dBA at quarter load.
Provides access to multiple power outlets to accommodate various uses. It has one TT-30R outlet, two household outlets, and one DC automotive-style outlet with a dual USB adapter.
Cons:
It lacks both fuel gauge and hour meter.
The battery needs to be charged regularly. Otherwise, it will lose the charge and then lose the ability to accept a charge.
3. Westinghouse iGen2600 Inverter Generator
Powered by a 4-stroke engine, the Westinghouse iGen2600 is an all-round improvement over the iGen2500. The new iGen2600 inverter generator has a peak output of 2600 watts, giving it a slight advantage to power appliances that require higher wattage to start.
Another welcome change is the position of the start dial knob. Now it's next to the recoil handle. Also, there's a new 12V DC outlet to go along with two 5V USB ports and two 120V AC outlets.
It supplies a consistent power output, making it suitable for powering sensitive appliances and electronics, such as smart televisions and mobile phones.
In addition, it is parallel compatible. So you can pair any two generators together from the Westinghouse iGen series. It is CARB compliant, EPA and USFS approved as well.
Backed by a reliable company with nationwide customer service and support.
Pros:
Lightweight at only 48 pounds. Also easy to carry with a built-in suitcase-style handle.
On a single gallon, it can run for 10 hours at 25% load. It only burns about 0.1 gallons of gas per hour.
A quiet generator, rated at 52 decibels when using 25% of the electrical load.
It has a handy LED data display to help keep you up with scheduled maintenance. The display showcases the fuel level, power usage, remaining runtime, and lifetime run hours.
We also like that there are no tools required for accessing the service panel.
Cons:
There are possible concerns related to the quality of the spark plug.
It's recommended to use a lower level plug for an effective oil change. It's also advisable to use a magnetic dipstick to pick up the debris.
4. WEN 56380i Portable Inverter Generator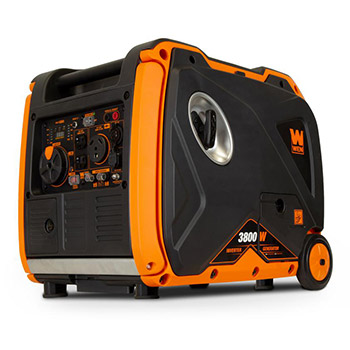 Wen 56380i is a powerful inverter generator with enough power to simultaneously run your appliances, power tools, and electronic devices. It offers a surge wattage of 3800W and a continuous wattage of 3400W.
At full load, it limits the total harmonic distortion to just 1.2%. As a result, it is safe to use with delicate electronic equipment such as laptops, smartphones, and gaming systems.
With a potent 212cc engine, it's also powerful enough to keep the refrigerator, air conditioner, or heater running. It's also parallel capable and can share wattage with another unit.
It features a fuel efficient economy mode, which means less gasoline consumption, longer engine lifespan, and quieter operation.
Despite the heavyweight, nearly 100 pounds. It comes with built-in wheels and a handle to simplify storage and transportation.
Pros:
It works with an electric start and offers a long runtime. Having a gas tank capacity of 2.2 gallons, it runs over 8.5 hours at half load.
It has a multi-meter display showing the current load, voltage, frequency, remaining runtime, and fuel level.
Low noise, it is rated at 57 decibels at quarter load.
A fuel shutoff switch. The fuel valve stops the fuel flow and uses only the remaining fuel from the carburetor before shutting down automatically. Much more convenient than manually draining the carburetor after each use.
Ease of use, it has an easy access oil cover that makes for easy oil changes.
Cons:
The display is not bright enough; it's particularly challenging to read in daylight.
The oil replacement intervals are every 25 hours. Therefore, it may not be ideal for extended use in camping grounds, given that it requires you to change the oil almost daily.
5. Yamaha EF2200iS Portable Inverter Generator
Everything about the Yamaha EF2200iS displays a fair amount of attention to detail. From the polymer alloy frame construction, which is durable yet lightweight – to the cast iron cylinder liner of the engine for increased reliability.
This particular Yamaha model is designed to compete with the new inverter generators in the same power range. Featuring the Yamaha MZ80 air-cooled engine, delivering a surge wattage of 2200W and a running power of 1800W. It is built using the latest inverter technology and equipped with Pulse Width Modulation (PWM). It supplies clean power that is safe for computers and electronics.
Also, it has the twin tech function for connecting another unit for double the power output. It produces between 57 to 65 decibels depending on the load. It also offers multiple receptacles that would support different appliances in your home, RV, travel trailer, or camping trip.
Check also – Yamaha EF2000iSv2 review
Pros:
Compared to the older model, new features include a gas gauge and an illuminated LED screen to monitor the generator's status.
Another unique feature is the carburetor drain valve. It allows for draining the gas efficiently without using any tools.
It also doesn't require any tools to open the maintenance panel, only simple thumb screws.
The economy mode uses a load sensing mechanism for controlling the RPM speed. It runs for 10.5 hours at quarter load on a little over one gallon.
Weighs 55 pounds and has a practical Tri-Handle design.
Cons:
It has a mechanical fuel pump design that enables installing an external fuel tank. However, as a result, it requires multiple pulls to start.
The oil filler position is not very practical for oil changes.
6. Briggs & Stratton P4500 PowerSmart Series Inverter Generator
The Briggs and Stratton P4500 is the latest inverter generator released in the PowerSmart series. It generates safe electricity with a surge output of 4500 watts and a running power of 3700 watts.
Designed with Quiet Power Technology (QPT), it boasts of a highly efficient engine that consumes less fuel and produces less noise. From 23 feet, it measures 60 decibels at quarter load.
This inverter generator features impressive built-in safety features and a fully-packed control panel. With overload protected outlets, circuit breakers, and low-oil shutdown. It's a good option for extended use in campgrounds, tailgate parties, and other recreational activities. It's also suitable for home backup power to keep your essential appliances running during a power outage.
It weighs 115 pounds, which makes it somewhat cumbersome. Nothing strange for generators of this power, and it also has a telescoping handle and wheels to help out with the transport.
Check also – Briggs & Stratton Q6500 review
Pros:
Equipped with the latest CO-Guard technology feature. An additional safety feature that automatically shuts down the generator if dangerous levels of Carbon Monoxide are detected.
A fuel tank size of 3.5 gallons provides up to 16 hours at quarter load and up to 4 hours at full load. It consumes about 0.2 gallons per hour.
It features an electric start and has multiple outlets, including a two USB ports, four residential 120V receptacles, and one RV outlet.
A multi-functional display that gives you the convenience of checking the fuel level, remaining runtime, and power in use.
Keeping up with oil changes is also easy. The oil channel position allows for draining the oil out the bottom of the unit.
Cons:
The brightness of the digital display is limited.
Some concerns related to the quality of the housing.
Best Portable Inverter Generator Comparison Chart
| Feature/Product | Honda EU2200i | Champion Power Equipment 75537i | Westinghouse iGen2600 | WEN 56380i | Yamaha EF2200iS | Briggs & Stratton P4500 |
| --- | --- | --- | --- | --- | --- | --- |
| Wattage: | 2200W / 1800W | 3100W / 2800W | 2600W / 2200W | 3800W / 3400W | 2200W / 1800W | 4500W / 3700W |
| Engine Displacement (cc): | 121 cc. | 171 cc. | 98 cc. | 212 cc. | 79 cc. | 224 cc. |
| Engine Horsepower (HP): | 3.6 HP | 5.5 HP | 3.4 HP | 4.5 HP | 2.5 HP | N/A |
| Starting Method: | Recoil | Wireless Remote + Electric + Recoil | Recoil | Electric + Recoil | Recoil | Electric + Recoil |
| Total Harmonic Distortion (THD): | Less than 3% THD | Less than 3% THD | Less than 3% THD | Less than 1.2% THD | Less than 3% THD | Between 3% THD |
| Fuel Gauge: | Not Available | Available | Available | Available | Available | Available |
| Automatic Voltage Regulator (AVR): | Available | Available | Available | Available | Available | Available |
| Outlet Protection Circuit Breakers: | Available | Available | Available | Available | Available | Available |
| Low Oil Shutdown: | Available | Available | Available | Available | Available | Available |
| Quiet Mufflers: | Available | Available | Available | Available | Available | Available |
| Spark Arrestor: | Available | Available | Available | Available | Available | Available |
| Exhaust Emissions Certificate: | EPA + CARB | EPA + CARB | EPA + CARB | EPA + CARB | EPA + CARB + CSA | EPA |
| Parallel Capable: | Available | Not Available | Available | Available | Available | Not Available |
Vital Guide for the Best Inverter Generators
You've decided which type that best fits your needs. Whew! But now you're trying to determine which one is the best inverter generator within your budget. If you're reading this, you're probably the type of person who likes to have all the information before making a purchase decision. In this case, here are a few things to consider before you buy an inverter generator. These points will help you narrow down all the best portable inverter generator models available to only one.
Wattage – Size
Believe it or not, deciding on where you will mostly use your portable generator is important. Each place has different power demands that can influence which inverter generator size you'll want to purchase.
Home Backup:

Simultaneously running various machines and entertainment devices requires extra power. Large inverter generators usually tap-out at 7000 watts. This range is suitable for powering all your essential appliances, including the TV, refrigerator, freezer, sump pump, and can also be connected to your house with a transfer switch. If power outages are more frequent, then please refer to standby generators.

Job Site:

Power tools require a lot of power to function correctly. Primarily, during start-up, these include drills, sanders, and circular saws. Midsize inverter generators in the range of 2500 to 4500 watts should be sufficient for job sites.

RV, Boat:

For an extended off-grid living, you want a well-suited size for your plug-in appliances such as the fridge, microwave oven, and coffeemaker. In this case, the 3000-watt range should be ideal. It is also suitable for running an air conditioning unit.

Camping, Tailgating:

If you want to power a fan, a blender, and charge your phone or laptop, then the 2000-watt range will suffice. Since there is not much that needs electricity in the middle of the woods, small inverter generators should be ideal. You may also be interested in portable solar generators.
Please check our guide to learn more about how to calculate your power requirements.
Capacity – Think Run Time
Inverter generators usually have gas tanks that hold between 1.0 to 3.0 gallons of fuel, which may not seem like a lot in run time at first glance. However, most models have an economy mode switch. It is often referred to as Idle-control, Eco-mode, Smart-throttle, or Eco-throttle. This mode uses a load-sensing mechanism that automatically adjusts the engine speed to produce only the power needed for your electrical devices. When you connect a few devices, the motor speed increases in response to the load. When you disconnect them, the motor speed slows down again.
A power inverter generator with Eco-throttle control can run at varying speeds to match the output and burn only as much fuel as needed while maintaining the proper voltage and frequency. Since the engine does not have to run continuously at full speed, it can significantly reduce fuel consumption by 20-40%. So you can enjoy a long power supply. This further helps reduce the overall exhaust emissions and the noise levels, since a generator is loudest when running at full load.
Portability – Handles and Wheels
Inverter generators make portability a primary manufacturing goal. There are open frame inverter generators for high wattage solutions. However, in most cases, they have a compact enclosed case design. They are often found in sizes around two or three cubic feet. So it's not unusual to find portable inverter generators under 75 pounds. They are most often light enough to be hand-carried with just a handle. Large units usually utilize wheels and handles to maintain portability.
Parallel Operation – More Power Option
One of the best main features of some inverter generators is the parallel capability option. This feature allows you to link two generators together to increase your power capacity. Usually, this feature is limited to connecting two identical units to share the load and deliver double the power output. It allows you to have the portability of inverter generators while achieving higher power output.
Noise Level – Don't Keep the Neighbors Up All Night
An inverter generator can quietly power the devices you need to run. However, it's necessary to consider the noise rating, since there is a big difference between one machine and the other. Noise is measured in decibels (dB) for portable power machines. The higher the decibel rating, the louder it is. Most manufacturers measure the noise levels from a distance of 23 feet.
At a quarter load, the noise level of some models can drop to 48 decibels. Noting that at higher loads, the scale is bound to change. So, anything above 60 decibels for an inverter generator is higher than average. As a result, it's necessary to compare various inverter generator models from highly-rated brands.
Convenient Features – Ease of Use
If you're not familiar with the ins and outs of inverter generators, then you will want a unit that has some user-friendly features, such as:
Low-oil indicator: An oil alert system that warns you when your generator is running low on oil.
Fuel meter: A fuel gauge is necessary for monitoring the fuel level.
Hour meter: An LED display or a digital display is useful for showing the running time, watts in use, and much more.
Wireless remote start: This option allows you to start and stop your unit with a remote start from a distance of up to 300 feet.
CO guard: Carbon monoxide guard allows the generator to automatically shut-down if high levels of carbon monoxide accumulate around the generator. That said, this is only an extra safety feature. Portable generators should never be operated indoors. Always place the generator at least 20 feet away from your living spaces and direct the exhaust away from any occupied area.
A good inverter generator will come standard with these features. However, make sure to check and weigh out your options.
Avoid – Common Mistakes
Avoiding the following mistakes will ensure that you purchase the best inverter generator for the money.
Be aware of industry jargon and only focus on the specifications of each unit. All manufacturers advertise their models as the best ones on the market. Don't get caught up in selling tactics. Instead, compare inverter generators from different brands to find the best one that fits your budget and needs.
Get an inverter generator manufactured by a well-known brand. If you look all over and no one has heard of the company. Then it is best not to purchase from them.
Make sure that you get a good warranty. If two models match your needs equally, then check the warranty. The one with the best warranty conditions and length is always the most suitable choice. Also, a warranty is an excellent indicator of how confident a brand is about their product.
Check the price before you purchase. Investigate a bit and check if the price that you are getting is the amount you should be paying. Usually, buying online will save you money.
So, you've decided on the essential features to you and what you need to power. Establish an idea about the size of the inverter generator you need; What a reasonable noise level; and lastly, which inverter generator has the best value for the money.
To get the best performance from your portable generator, you can check our list of the most useful generator accessories.
Inverter Generators Frequently Asked Questions (FAQ)
There are a few key features to consider. By reading our reviewed inverter generators, you can see which are the best ones in their class. We cover the features and benefits of different models and sizes, allowing you to find the best inverter generator on the market.
How Do Inverter Generators Work?
A generator is a fossil fuel-driven engine that turns an alternator to convert rotating mechanical energy into electrical power. It produces an alternating electrical current (AC) – typically 120V, 60Hz – similar to the standard electricity of a wall outlet.
In a conventional generator, the power is fed straight to the control panel and the connected appliances. The power may first go through a voltage regulator or other protective devices. Yet it may not be "clean" enough to power sensitive electronics that can only handle specific voltages to work properly.
Inverter generators are far superior to conventional generators. They fix this issue by using a 3-phase system. They create AC power just like their generators counterpart. But then that power is rectified to DC. Then 'inverted' again to AC. The power is filtered through microprocessor-controlled inverters that generate "clean" AC power. It is essentially the same as grid-quality electricity. They create clean, stable power, and they are also generally more compact and much quieter.
Learn more about the difference between a conventional generator and an inverter type generator.
Are Inverter Generators Safe for Electronics?
Inverter generators are rated safe for electronics that are sensitive to power quality. They are perfectly suitable for powering sensitive electronics, such as laptop computers, smartphones, digital cameras, sound systems, and other household appliances.
On the other hand, conventional generators usually experience spikes and voltage surges that can make the power uneven. It can lead to frying sensitive circuits in your electronic devices. Even if the effects of these voltage fluctuations are not always immediate. However, the damage may significantly reduce your devices' longevity and lead to system failure over time.
As a result, to power sensitive electronics safely, choose an inverter generator with low harmonic distortion (THD), more on that below.
Are All Inverter Generators Pure Sine Wave?
All digital inverter generators produce utility-quality pure sine wave power. True sine wave power is a superior form of output than a square wave or modified sine wave produced by conventional generators. It does not suffer from dangerous power fluctuations that can damage modern electronic devices.
Sine wave energy refers to the flow of power from the inverter generator as it is inverting the power to AC. The smoother the waveform, the better the generated electricity. One way of measuring the quality of power is according to the total harmonic distortion (THD). The amount of THD present in your electricity will influence how your equipment may respond or perform.
As the Institute of Electrical and Electronics Engineers (IEEE) recommendation, the quality of power is considered good when the THD is less than 6%, often referred to as 5%. Inverter generators usually operate under 3% THD, which is the technical standard for commercial grid power quality. Some of the best portable inverter generators in our top selection operate with only +/- 1.5% THD.
Can You Parallel Two Different Size Generators?
Yes, you can parallel two different sizes of inverter generators together. Most often, you can only parallel operate two identical generator units. This allows you to get double the energy output capacity. For example, you can connect two Honda EU2200i with a special parallel cable to get a total of 4400 surge watts.
However, some brands, such as the Westinghouse iGen series, Briggs and Stratton PowerSmart series, Firman, Energizer, and some WEN models, allow parallel operating different sizes. These brands offer a parallel operation kit that makes them compatible with different generator sizes. They will enable you to expand the power output even more.
Are Inverter Generators Worth the High Purchase Cost?
Many of us know that convenience comes at a cost, and the same is true for inverter generators. Possibly the only disadvantage of inverter generators is the purchase price tag. It tend to be more expensive than conventional generators. However, they carry distinctive characteristics that make them much more versatile and more reliable in many cases.
An inverter generator is a great power solution. It will provide you with a clean and consistent energy source without compromising your equipment. Additionally, designing inverter generators to fit their signature portable size with all these various features. It requires more refined planning and expertise to make all that possible. After all, you get cutting edge technology with custom parts. It is built specially to reduce noise, run efficiently, increase portability, and all that without a reduction in performance.
Suppose you need a large amount of energy, and your electrical devices and appliances can handle irregular waveforms. In that case, a conventional generator will do just fine. Especially that it's the more affordable option. Otherwise, an inverter system is nearly always the best route to go. It provides quiet, reliable, clean electricity in the most efficient way possible. It's also easy to transport, highly portable, requires very little monitoring, and has many useful features.
Bottom Line
There is a fairly recent advancement in these fuel-efficient machines. They provide stable power, fuel economy, and portability. As long as you have the budget then an inverter generator is almost always the best route. We've narrowed the vast list down to only the top of their class. With our guide, comparison charts, and inverter generator reviews, you should have no problem identifying your power needs, discovering the features you want. And finally, deciding on which inverter generator most suitable for you. We've done the work of finding and comparing various models from multiple brands and manufacturers. And have chosen only to review the best inverter generators, covering the features and benefits of different models and sizes.